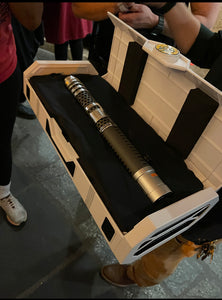 Imported

Exclusive Star Wars Galaxy's Edge Asajj Ventress Legacy Lightsaber Hilt

Features red lights and sound effects when used with a Galaxy's Edge lightsaber blade (sold separately)

Single blade hilt and case only. Lightsaber blade sold separately. 

Recommended for ages 8+
Asajj Ventress was a Dathomirian female who, at various points throughout her life, was a slave, a Jedi Padawan, an assassin of the Sith, a Nightsister and a bounty hunter. Dark Disciple is a canon novel starring Asajj Ventress and Quinlan Vos, written by Christie Golden for release by Del Rey on July 7, 2015. The novel is part of The Clone Wars Legacy multimedia initiative, since it is based on an eight-part story arc that was scripted for the Star Wars: The Clone Wars television series, comprising the episodes "Lethal Alliance," "The Mission," "Conspirators," "Dark Disciple," "Saving Vos Part I," "Saving Vos Part II," "Traitor," and "The Path." 
* . Blades must be purchased separately.
Life is too short to live without the Star Wars Galaxy's Edge Asajj Ventress Refocused Legacy Lightsaber Hilt. Be happy. Be Content. Be Satisfied.

Inventory Last Updated: Dec 03, 2023